Project Management assists in controlling your costs, keeping you in control and focusing on revenue generating areas of your business.
How much time do you spend on..?
Re-keying data into multiple applications
Maintaining and supporting multiple applications
Analyzing what types of work are profitable and not profitable
Waiting on time and expenses from your staff
Trying to run a profit/loss on a project, if you even can
Determining which project tasks need to be completed
Sorting and preparing data for billing
Entering billing into an accounting system
What's billable and what's not billable for a project
Trying to respond to customers with up-to-date information
Creating a detail project report for customers
How much time 'disappears' and does not get billed?
TimeLinx is ONE integrated system that can replace up to EIGHT separate applications! TimeLinx adds important project, resource, time and expense data to your customer relationship information.
Download Project Management PDF
TimeLinx Project Management User Configurations

Local user

Mobile user

Remote office

Remote user

Web

Yes

Yes

Yes

Yes

Yes
TimeLinx Project Management Application Integrations (Major)

Accounting/ERP

Business Alerts

Business

Intelligence

Document Management

Sales and Marketing/CRM

Telephone

Optional

Optional

Optional

Optional

Optional

Optional
The TimeLinx™ system works directly inside of the award winning customer relationship management application, InforCRM, rather than using another outside program that needs to be integrated. Within the familiar, comfortable and user-friendly InforCRM interface, TimeLinx™ lets your entire organization have full visibility into customer projects and services rather than having this information only available within the accounting system and limited to select staff. On an up-to-the minute basis, your employees know the status of customer work that has been sold, and your support staff and project managers have the full-details at their fingertips to support the customers and the implementation staff.
Features and modules include network and web timesheets, projects tracking, resource management, milestone and task analysis, expense management, attendance management, InforCRM calendar integration, Microsoft Project synchronization, and integrated QuickBooks® and Sage 100 (MAS90), Sage 200 (MAS200) and Sage 500 (MAS500) synchronization.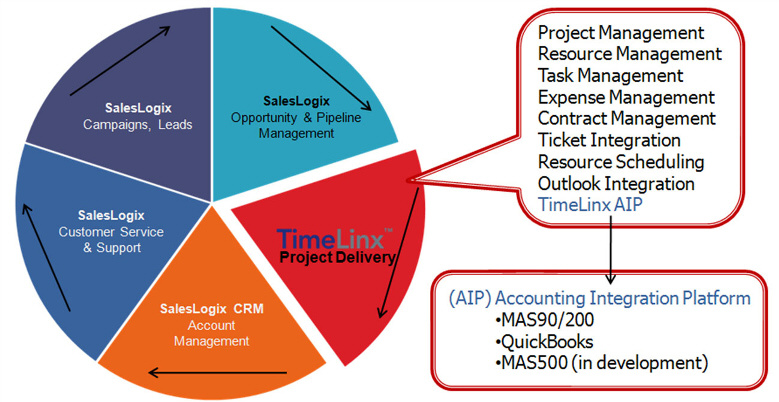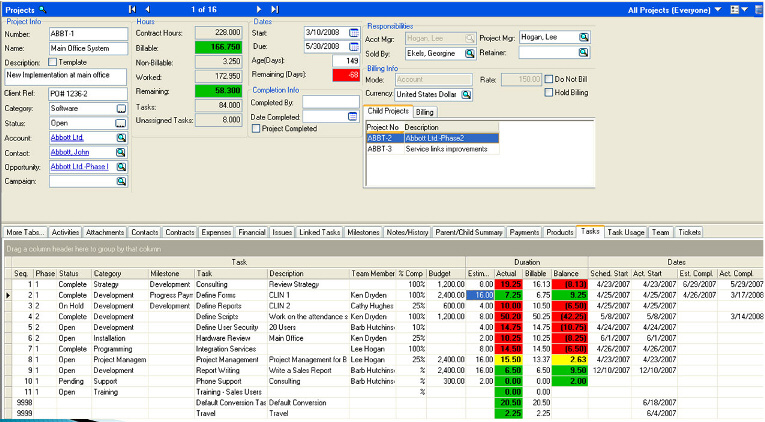 TimeLinx™ Project Management

TimeLinx™ Time and Services Management

Functions

Functions

Milestone and task management

Role-based time and expense entry

Retainer and pre-pay management

Task-specific time entry directly into projects

Issues tracking and management

Labor costs and profitability analysis by account, consultant, project, task, etc.

Contracts and change-order support

Task scheduling in the InforCRM calendar and synchronization to Outlook

Product delivery/installation

"Cost of time" by User tracked for all time entry

File attachments for projects

Customer service time from InforCRM tickets tracked into projects

Expense management including multi-currency

Multi-level time approval system

Multi-level project linking

Travel time tracking and analysis

Custom Query System

Email and phone time tracking in projects

Automated project alerts

Network and web time entry

Accounting Integration Platform

Custom query system produces instant analysis

Services and expenses pass-thru to accounting/ERP

Automated service alerts

TimeLinx™ Resource Management

Functions

Browser-based resource availability/scheduling system

Resource availability by project, time, skill set, department, team

Task Management/assignments to individuals and departments

Scheduling within the InforCRM calendar

Attendance tracking for resource utilization and realization analysis

Automated resource alerts